Boat transport ends this summer on September 29, 2023

Thanks for the past summer!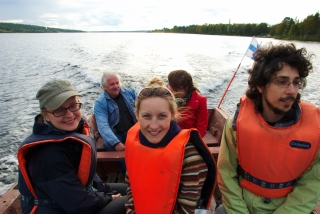 During the hiking season, we offer a ferry service over the lake Ounasjärvi (service available from appr. June to October – depending on weather circumstances). If you arrive from your hike on the South shore of the lake, we can pick you up after giving us a short call. Starting your hike from Hetta, just come to our store, and we will immediately arrange your transfer. The harbour is just a few meters behind our shop. Our boat can carry up to ten people at once, life jackets will be provided. Outside of our opening hours (Mon-Fri, 9am to 5 pm), an appointment needs to made beforehand.
Prices:
• Single Person (one way): 15€ per person
• If you also take a car transfer and the boat transfer, the boat transfer is then 10€/person.
• Groups (10 or more people): 10€ per person
• Car transfer to Hetta-Pallas or Pallas-Hetta is 90€/car.
Additional Information:
If you arrive or plan to depart by bus, you will find a bus stop right in front of our store (please check the bus schedule from Matkahuolto). If you are arriving in Hetta by car and plan to hike to Pallas, you can also take advantage of our car transfer.